Website Language


Board of Directors
Ayesha Khan - Director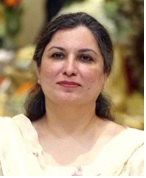 A development economist working for more than 20 years in the socio-economic development sector. Ayesha Khan is also an IFC-World Bank certified trainer and has taught development economics and project management at University level and microfinance at the National Institute of Banking and Finance (NIBAF). Her employers have included international multilateral agencies such as the World Bank, Asian Development Bank, the European Union, UNIDO, other UN agencies and bilateral donors like the Swiss government, the Royal Norwegian Embassy and UK Aid. Currently she is VP CSR, HG Hotels and responsible for four social sector organizations instituted by the Hashwani family, including Hashoo Foundation, Hashoo Trust, Hashoo Hunar Association and Umeed-e-Noor.
Current Honorary Positions include being Chairperson, NACG-Pakistan Chapter of SAIVEC (South Asia Initiative to End Violence Against Children); Chairperson, Climate Action Network South Asia (CANSA) and recently was President, Sector Skill Council-Hospitality (SSCH) – 2017-18 and Convener, SSCH – 2019 Her experience also includes MSE development in South Asia (India and Bangladesh) with the Swiss government and women economic empowerment with IFC-WB in Afghanistan. She has also worked in Sri Lanka with UNICEF/IOCE for the promotion of a national evaluation policy at South Asia level. Starting as a social activist Ayesha Khan not only promoted child rights and gender equitable development but also co-founded a voluntary organization of professional evaluators for the promotion of transparency and accountability of development aid. Some of her select publications include: Islamic Laws and the Status of Women in the Modern World, Co-Author with Professor Laiq Ahmed Khan funded by The GIANT Forum. Advocacy Strategies for Youth, Gender and Reproductive Health funded by UNFPA & the GIANT Forum Women's Employment Concerns, funded by ILO Institutionalising Public -Private partnerships for Economic Empowerment.
Importance of Public Private Partnerships in Technical Education and Vocational Training. Education for Development funded by Dfid and Govt. of Sindh Ayesha Khan is a member of the Pakistan Society for Development Economics (PSDE-PIDE) among others. Namely: the Human Resource Development Network; the AVPN-Asia Venture Philanthropy Network; the Global Entrepreneurship Network; the Pakistan Evaluation Network; the Economic Freedom Network and was Board of Trustees of the Warwick University Student Union. She holds two Master degrees; 1) MA in International Political Economy from Warwick University, UK (major: International Political Economy; other courses included: Public Policy, Democratization and Development, Economic Cultures and Global Flows, Terrorism and Counter Terrorism) and, 2) MBA in Project Management and Financial Analysis. She also has a Diploma in Business Development Services from Glasgow University, UK, and another Diploma in Microfinance, from Colorado University, USA. Among other awards she received Certification in Investment Promotion and Facilitation from ITPO, Bahrain, United Nations Industrial Development Organization UNIDO, 2007 and a distinct certification in Financial Sector Accountability from the Swiss Agency for Development Cooperation (SDC) in Switzerland, 2005.

Return

b