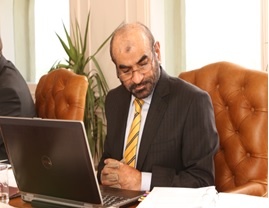 Mr. Rohail Ajmal, Senior Management Consultant and Head at "The Consultant", is a former Executive Vice President / Chief Financial Officer of Saudi Pak Industrial and Agricultural Investment Company Limited (Saudi Pak). He holds a Bachelor of Commerce from Hailey College of Commerce, University of The Punjab, Lahore, and is also a Certified Internal Auditor from The Institute of Internal Auditors, USA. and a fellow member of Pakistan Institute of Public Finance Accountants. Mr. Rohail also completed directors training program conducted by The Institute of Chartered Accountants of Pakistan and is a Certified Director.
He also completed articleship with KPMG Taseer Hadi & Company, Chartered Accountants, and qualified CA Intermediate and group II level examinations of The Institute of Chartered Accountants of Pakistan. Mr. Rohail has over 33 years of diversified experience with a leading financial institution of Pakistan (1984-2017) in areas of finance, accounts, audit, treasury, project financing, project monitoring, compliance, procurement, human resource management and business operations. Mr. Rohail held various positions in Saudi Pak as Chief Financial Officer, Chief Internal Auditor, Head of Compliance, Head of Human Resource, Head of Business Operations and Company Secretary. He also headed various committees like Credit and Investment Committee, Purchase Committee, Human Resource Committee, I.T. Steering Committee, Investigation and Inquiry Committees. Mr.Rohail's core skills and achievements include ability to direct divisions, departments, teams and to meet deadlines, development of first compliance program of the company, implementation of code of corporate governance, successful execution of foreign currency borrowing swap transactions worth $50 million hedged with State Bank of Pakistan, re-drafting of the articles of association of the Company, developed and implemented internal control over financial reporting (ICFR), managed the Provident Fund Trust of the Saudi Pak employees as Secretary/Chairman of the Fund for about 33 years, developed statement of ethics and business practices of the company.
Mr. Rohail also worked in Saudi Pak Commercial Bank Limited as representative of Saudi Pak (Holding Company) and served on the Board of Pak Kuwait Takaful Company Limited and as a Member Board and Member Audit Committee and Investment Committee of the Board of Saudi Pak Real Estate Company Limited and currently is a Member Board of Fecto Cement Limited since September, 2011. He also attended various management courses, conferences and seminars inside and outside Pakistan.